JCI Tsuen Wan's Business Affairs Flagship Project
Outstanding Enterprise Heritage Selection 2023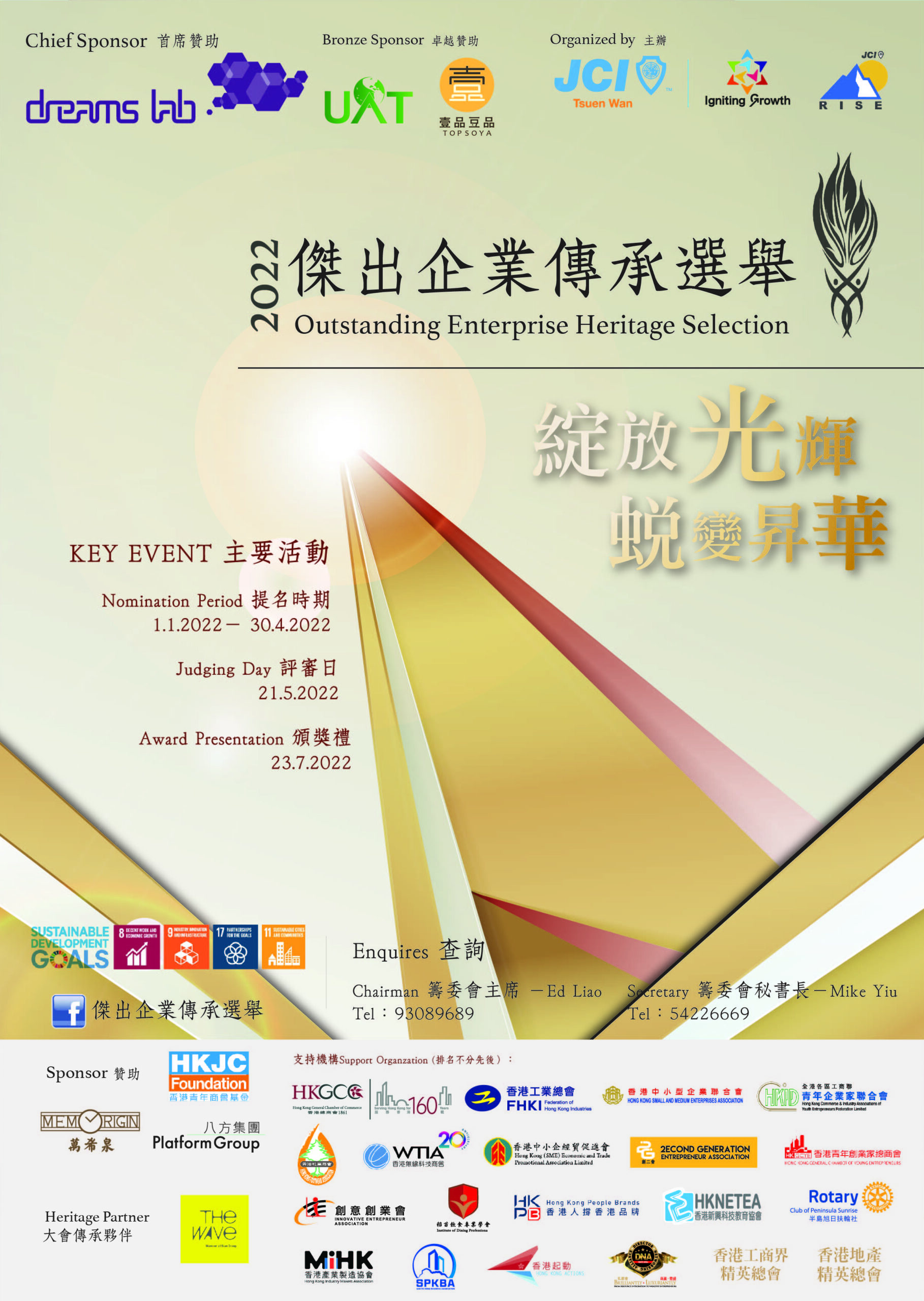 "Family business is the oldest and common model of economic organization."
Alfredo De Massis; Pramodita Sharma; Jess H. Chua; James J. Chrisman (2012)
Outstanding Enterprise Heritage Selection (OEHS), previously named Outstanding Family Business selection (OFBS), has been one of the flagship projects organised by JCI Tsuen Wan since 2014 under one of our JC area, Business Affairs. The objective of the project aims to 
To give recognition to heritage business who achieved outstanding performance with management succession through generations

To encourage adoption of practical and effective planning or strategy to ensure successful succession of business by next generation

To encourage heritage business to develop future leaders for the benefit of not only the business itself, but also the related business field and the community as a whole

To inspire heritage business to introduce innovation and creative elements for the business
This year being the ninth year, we continued the spirit of the selection to commend enterprises with outstanding performance in Hong Kong.
In the past years, we selected no more than 10 winners each year to encourage new generation entrepreneurs with outstanding performance in Hong Kong, encourage business innovation, and build continuity and long-term management culture to win the prize.
Dreams Lab, established in 2015, has the mission to inspire next generation, change makers and enterprises to shape global collaboration and social values creation. We are an innovative network accessible by all walks of life, that enable dream makers to innovate, experiment and develop own solutions to live up their pioneer projects. We allow our networking partners to share their unique intelligence and leading resources to maximize the impact. Dreams Lab is a place that offers related strategic solutions, learning opportunities, technology transformation and social impact analysis. Together we build a better world together.
UAT is committed to the quality of products and services while achieving respectable projects for banking and finance, education, government, infrastructure and property, professional services, and retail. Our expertise in the audio visual industry ensures the successful integration of audio, video, data, control, and security.
Topsoya was founded in 1958 and rooted at the foot of Hengtai Mountain in Yuen Long. It has focused on the soy product industry for more than 60 years and can be called a master of generation. We devote ourselves to the production of high-quality soybean products, and insist on making them fresh in Hong Kong every day, so that every family can enjoy the healthiest and freshest soybean products every day.
Platform Group 八方集團國際有限公司